You may contact me most easily by email at: SPK@fiestafarm.com  Fiesta Farm is located at 1413 Cooper Lane in West Knoxville.  We are between Campbell Station and Lovell Roads south of Pellissippi PKY and North of I-40.
I am generally fairly quick at returning emails.  You can expect to receive further, personalized information via email.  You may also "follow me" on Twitter (a link is provided) for hourly updates on Fiesta Farm local show days in April, September and October for our "regular" shows as well as during July for our evening "Mini" Horse Shows.  I can also be reached through FaceBook (a link is also provided) or call me on my cell phone at (865) 604-4863. Please don't leave me a message and ask for me to call you. I hate making (although not receiving) phone calls.
Please email me for information and for my personal telephone number.  I have suspended my barn phone number as it has been almost totally unused over the last few years.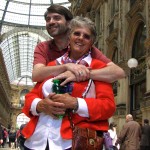 Michael & Susan in the Milan mall, 2012.